Tips for Evaluating a Vendor Partner Program
Author: Jason Lucas, Sales Engineer
As a reseller, you want to make sure that you're getting involved with worthwhile vendor partner programs. The trouble is, sometimes they are complicated and not very transparent. Partnerships with the larger names in your industry are no-brainers, but how do you decide on the other relationships that you are constantly being solicited for? Let's look at some key areas that are important to the reseller-vendor relationship.
Fill a Need
The first place to start is to review the vendor's offerings and find what "need" they specifically fill for your company and your clients. These vendors should offer solutions that are innovative and solve specific client or company problems. Each vendor you partner with should have a unique value-add brand, solution, product, or offering that makes them worth putting in your portfolio. Your life should be made easier by this solution.
Availability
Is the vendor there when you need them?
Imagine that you have decided to implement a new vendor's solution. You are faced with an issue in deploying or configuring the solution for your client. The questions you need to ask are:
How difficult do you imagine it will be to get this vendor's help in solving this issue?
Is this vendor available to help?
How long have they been in business and will they be there for the life of their product?
All of these items can lead to your project being a success or failure and can ultimately effect your reputation in the marketplace.
Firsthand Experience
Let me try it first
Does it make sense to sign up to represent a product or solution that you have not used yourself? A good vendor will have a strong Not For Resale program that provides access to their products, support, and processes to help you in your vetting process. The vendor should grant you easy access to this type of program and offer you full insights into how they work as a company. This shows that the vendor is confident and upfront about the value of their offerings. The goal of this is to build trust, so that if you sign on with this vendor, you have firsthand experience to relay to your clients and customers.
Partnership in Action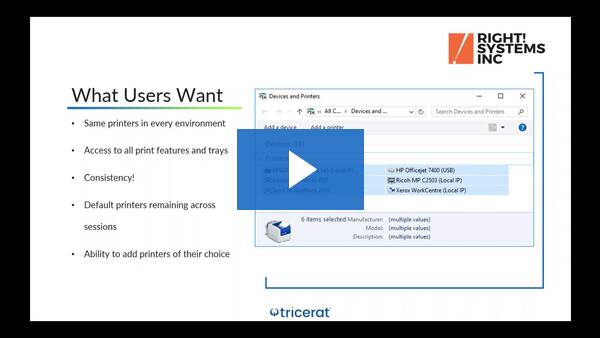 Value Add
Any vendor you sign on with should be dedicated to the channel. You want to make sure there are no internal conflicts between the inside sales team and your interests. Make sure you clarify the reseller benefits, such as:
Are there levels that you achieve?
Will the vendor make marketing money available to your company to promote?
Will the vendor send leads to you?
Will the vendor protect you from being undercut on price?
Bottom line – choose a vendor that makes you feel valued and supports your mutual business.
The relationship between a reseller and vendor must be mutually beneficial. As a reseller, your reputation is on the line every time you promote a vendor to your hard-earned clients. Make sure you do your due diligence to ensure that your vendor values your clients as much as you do. If any of this resonates with you as a reseller and you are looking for a unique print management solution to add to your solution set, take a look at the Tricerat Reseller program here or call in to speak to one of our Strategic Channel Managers who can personally walk you through the program.
Jason has over a decade of experience in the technology sector, working as an IT consultant responsible for reviewing potential new vendors. Connect with him on LinkedIn.
Tags: Tricerat Blog, Partners