Printer Assignments Made Simple With Maps
The new Maps functionality from Tricerat makes the self-service of printers simple and natural. New to Simplify Suite v6.8, Tricerat now allows users to quickly and easily add their own printers from a Maps view. Admins simply upload images (think floorplan or office layout), drag and drop printers to these maps, and then users can visually see where their desired printer is located. After listening to customer feedback, we wanted to provide a simplified way allow users to select their own printers on their own terms.
Learn More About Simplify Printing
Easy For End Users
As with all of Tricerat's products and features, Maps was designed and created with ease-of-use at heart. With Maps from Tricerat, IT admins can upload images, such as floor plans, and add the precise printer locations for their users to easily find. The users can then comfortably navigate their office layouts and select the exact printer they want based on where they are in the office, instead of relying on a guess from someone else.
Maps is an intuitive and nimble interface for both the IT admin and the end user. End users simply open the User Assigned Printers Tool, select Maps from the navigation pane, select your location, then select and add your printer. Tricerat will automatically take care of the rest by building the new printer queue. Users can also remove existing printers or even set a default printer right from the same map.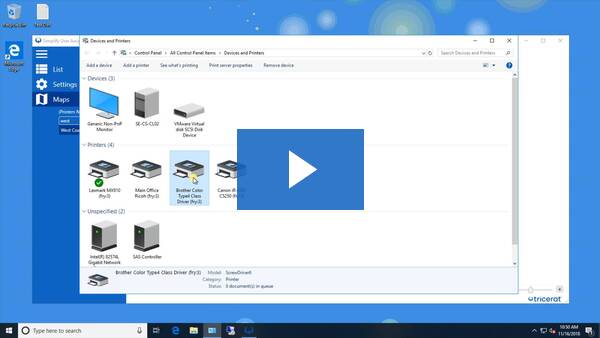 Maps Assignments User View
Admin Printer Assignment
For an Admin, configuring the Maps is done with the Map Management utility, which can be opened right from the Simplify Console. Uploading a map is very simple. Just browse to the file for the floor plan, and dropping a printer onto the map is done with a simple right click. The maps are also interactive allowing for the precise, pin-point printer locations. Maps can also be tagged to make them more descriptive and therefore easily searchable for both users and admins.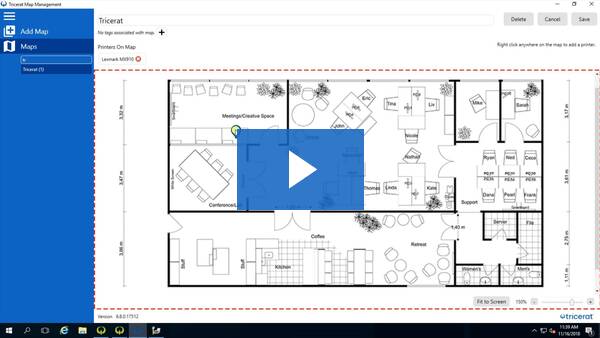 Maps Assignments Admin View
Benefits
With Maps, Admins no longer need to worry about creating and then forcing special GPOs, policies, or scripts, nor do they have to worry about custom VLANs or subnetting for location-based printers. By using Tricerat's solutions, that eliminates the need for complex configurations and replaces it with a simple process of dropping printers onto a floor plan. We are modernizing the look of our interfaces, making the software effortless to use and features easier to discover, while still providing the same powerful functionality that customers have come to expect from Tricerat.
True Value
Maps will add value to those companies and businesses where users are moving around from floor to floor or site to site, and need to get access to the closes printer fast and with without jumping through a whole bunch of hoops. For instance, nurses who float from patient room to patient room, managers that need to visit different offices around the country, or tech people that travel to different remote sites.Or maybe you are an Admin managing too many users or printers that assigning the correct printer to the correct user is impractical. Or maybe you oversee a fleet or printers but how no idea who might be using those printers, like in the case of schools or co-working spaces. Imagine being able to create Maps with all the printer locations so that a user can find and select their own printer! In situations when users are changing locations and need the right printer based on where they are instead of who they are, Maps from Tricerat will provide them with the right tools for the job.
Schedule a Demo
Schedule a demo with one of our solutions engineers to see how Map Assignments will benefit your company by saving time and money, and reducing time spent managing printers and users.

Tags: Products